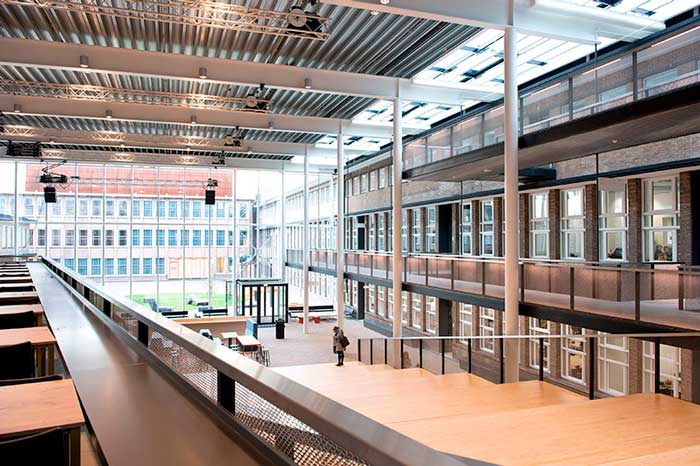 Pyrobel-T
Pyrobel-T is the ideal XXL fire-resistant glass for airports, shopping centres and sports complexes. It is very clear and available in sizes up to 2 metres x 4.5 metres. Every single Pyrobel-T pane undergoes a Heat Soak Test. Your safety is our concern.
Advantages
XXL size
The fire-resistant Pyrobel-T glass can be delivered in very large sizes.
Unequalled transparency
Pyrobel-T glasses have an exceptional light transmission.
Resistant
In addition to its excellent fire resistance performance, Pyrobel-T provides resistance to impacts, water and UV rays.
100% Heat Soak Test
Many spontaneous breakages of tempered glass are caused by nickel sulphide inclusions (NiS). The Heat Soak Test (HST) excludes panes likely to suffer fracture. This test is systematically performed on 100% of the Pyrobel-T panes.
Did you know?
Pyrobel-T complies with all safety requirements: the glass is resistant to fire and to shocks. The process for manufacturing Pyrobel-T fire-resistant glass uses a special technology that produces sheets of toughened glass separated by a transparent gel. If a fire breaks out, the gel forms a barrier, reducing temperature and/or heat-radiation levels.
Properties
Unrivalled transparency (LT = 87%)
Technology available in XXL format (4.5 metres high)
Can be produced in all resistance classes:

EW: from 15 to 120 minutes
EI: from 15 to 60 minutes

UV, water and shock-resistant
Certified as 1B1 in accordance with EN 12600 classifying impact resistance and mode of breakage
Available in extra clear glass (Clearvision)
100% Heat Soak Test
Can be combined with all AGC thermal insulation and solar protection coatings