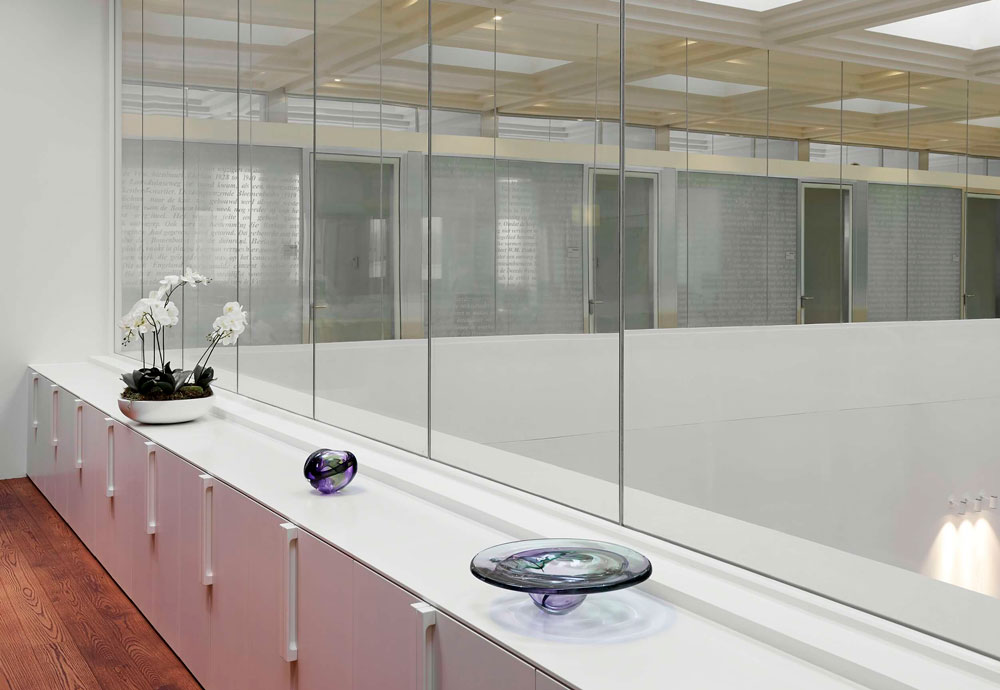 Vision Line
Fire-resistant edge-to-edge glazing. AGC leverages cutting-edge technological developments to develop solutions combining ever clearer glazing with maximum fire protection. Pyrobel Vision Line delivers a fire-resistant, unbroken wall of glass that ensures a broad field of vision, making it the perfect choice for modern fully glazed partitions.
Advantages
Aesthetics
The modern and stylish Pyrobel Vision Line system meets the needs of architects looking for glazed solutions without mullions, also in large dimensions.
Comfort
An unrivalled light transmission and an optimal acoustic insulation for maximal comfort.
Safety
Pyrobel Vision Line is made of safety glass according to EN 12600. The glass is fire-resistant on both sides.
The solution
Multiple fire-resistant panes of glass are interconnected by means of a 4-5 mm transparent silicone joint, thereby forming a single wall of glass. The result is a clear, unobstructed view. A glass wall made of Pyrobel Vision Line responds to fire by forming an opaque fire-resistant barrier, ensuring that building occupants have a secure route to evacuate safely.

Pyrobel Vision Line Corner is a version that allows glazing to be installed edge to edge with surfaces at angles ranging from 90° to 180°. This alternative to curved glazing sets a new aesthetic bar for architectural glazing projects.
Properties
Tested for indoor applications in classes EI30, EI60, EI90 and EI120 (in accordance with EN 13501-2) with steel, aluminium and wooden frames
Completely transparent glass partition without mullions
Glass corners tested without frames
Compatible with sandblasting as well as decorative and opal films
Fire-resistant from both sides
Safety glass in accordance with EN 12600 classifying impact resistance and mode of breakage
Excellent acoustic performance in accordance with EN 717-1
Available in extra clear glass (Clearvision)
Compatible with various types of frames and fire doors
Can be provided with a UV filter